Our research group is very active in disseminating its research findings to audiences within and beyond academia.
Organization of workshops and conferences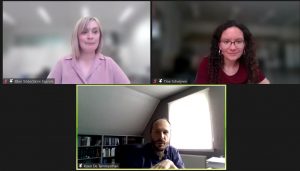 From 21st till 24th September 2022, we are delighted to host ICAN VI, the sixth International Conference on the Ancient Novel, in Ghent. More information on the designated page.
Previous events:
Recent conference papers by group members
Nicolò D'Alconzo (August 2022): 'Drawing Leucippe and Clitophon: Europa (1.1), Philomela and Procne (5.3-5)', Workshop: Research and Teaching Ekphrasis Through Creative Practice, Norwegian Institute in Rome.
Nicolò D'Alconzo (May 2022): 'Psellos and the novels, from quotation to novelisation', Workshop: Fictio. Ancient Concepts of Fiction and Narrative, Université de Lille.
Claire Rachel Jackson (April 2022): 'Chariton's Callirhoe, Musaeus' Hero and Leander, and Early Novelistic Receptions', CA Conference, Swansea.
Nicolò D'Alconzo (April 2022): 'Novels in quotation culture: the case of Niketas Choniates', CA Conference, Swansea.
Mara Nicosia (March 2022): 'The Hellenistic Enkyklios Paideia in the Syriac world: the role of rhetoric in shaping the 'classic", PAIXUE, Edinburgh.
Claire Rachel Jackson (February 2022): 'Fiction, Plausibility, and Miracles in Gregory of Nyssa's Life of Macrina', Fiction in Transition workshop, Ghent.
Mara Nicosia (January 2022): 'Syriac monastic schools and the teaching of rhetoric', Centre for Research on Ancient Civilizations, Warsaw.
Ellen S¨öderblom Saarela (December 2021): 'Novels and potential of uncertainty: female desire in Theodore Prodromos' Rhodanthe and Dosikles', Fifth virtual meeting of the Argentine Committee of Byzantine Studies.
Simon Ford (November 2021): 'Telling Tales in Byzantine Palaestina: Late Antique Trickster Tales in the Medieval Samaritan Chronographic Tradition', conference Storyworld in Collections: toward a Theory of the Ancient and Byzantine Tale, Centre for Medieval Arts & Ritual, University of Cyprus.
Nicolò D'Alconzo (November 2022): "Worked out with precise resemblance". The Life of Athanasius the Athonite and the Greek novels', Lampeter CA Seminar Series.
Mara Nicosia (September 2021): 'Syriac Rhetoric between Gree

k and Arabic: A Look at its History and Technical 

Vocabulary', 

TeTra Joint Research Seminars, UGent.
Mara Nicosia (July 2021): 'Graeco-Aramaica: a look at Greek words in Christian Palestinian

 Aramaic'

, International Online Workshop "Christian Palestinian Aramaic.

 Not quite the right 'Syriac'", Organized by Syriaca – 

Ricerche siriache
Ellen Söderblom Saarela (June 2021): 'Amazoneises, puceles corteises': interpreting the Amazon's Place in Courtly Romance', Conference on Enchanted Reception (see above).
Ellen Söderblom Saarela (April 2021): 'She must write her self, she did write her self: Hysmine's voice from within the wrong' (online seminar series Novel Echoes)
Koen De Temmerman (March 2021): 'A Life (not) to Die for: Eremitic Monasticism in Pseudo-Nilus' Narrations', University of St Andrews, Classics Research Seminars.
Koen De Temmerman (March 2021): 'The Greek versions of the Miracle of Euphemia and the Goth: tragic and novelistic resonances', University of California at Santa Barbara, Centre for the Study of Ancient Fiction workshop.
Koen De Temmerman and Claire Rachel Jackson (December 2020): 'Novel Echoes: Receptions of the Ancient Novel in Postclassical traditions' (Literature Department, UGent)
Claire Rachel Jackson (December 2020): 'Did the ancients read novels?', Griekenlandcentrum series.
Ellen Söderblom Saarela (September 2020): 'Responding to tradition', Stockholm.
Ellen Söderblom Saarela (June 2020): 'La Dame Dido and Artemis from the Greek novel', Uppsala, The World of the late Byzantine romance in context Conference.
Olivier Demerre (October 2019): 'Catching bodies, catching texts: Longus and Ovid on hunting', RICAN conference.
Julie Van Pelt (November 2019): 'Heliodoros the magician and the rhetoric of deception: creating religious authority through the figure of the magos'  (Regensburg University)
Koen De Temmerman (October 2019): 'Stories of Erotic Desire in Late Antique Hagiography: the Curious Case of Euphemia and the Goth (and Callirhoe)', Swansea University, Kyknos Research Colloquium
Koen De Temmerman (June 2019): 'Too good to be true. Life-writing, love and desire in Greek Martyr Acts of Late Antiquity', Universidade de Coimbra, Celtic Classics Conference
Blog posts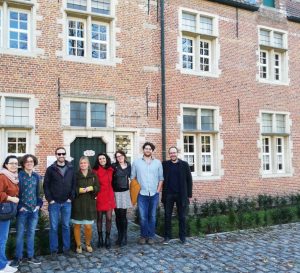 Schools' workshop
Our research group has created a workshop for school pupils in Flanders in the final two years of secondary school.
Shipwreck, evil pirates, lovers reunited, and fake deaths. There are a number of prose texts from antiquity which tell exciting tales like this. They are usually love stories about a beautiful young boy and a beautiful young girl who go through lots of trouble before they get their happy ending. Think of Romeo and Juliet, but then without the deaths at the end. These texts are generally called 'novels', but are they really novels like those we read in the modern world? Who read these texts in antiquity – and why? In this workshop, we'll have a closer look at some prose love stories from antiquity (Greek and/or Latin), and discuss what makes them a novel and what the texts tell us about the world in which they were written.
See here for more information and registration.
Other